Exploring the Wonders of Xcaret: A Guide to Mexico's Spectacular Eco-archaeological Park
2023-04-20
If you're looking for a destination in Mexico that offers a truly unique and unforgettable experience, be sure to put Xcaret on your list. This eco-archaeological park, located in the Riviera Maya region near Cancun, combines the best of water park, theme park, amusement park, and more, all in one place. Its privileged location in the jungle among underground rivers and cenotes, and facing the Caribbean Sea, provides impressive scenarios where visitors can participate in a variety of activities and enjoy the natural beauty of the region. Xcaret also celebrates Mexico's rich history and culture, with shows and performances that highlight the country's traditions and folklore. So, whether you're seeking adventure, relaxation, or cultural experiences, Xcaret is a destination that should not be missed.
Xcaret.com is a user-friendly website that offers extensive information on the park and the surrounding area. It provides details on everything from ticket prices and park hours to descriptions of attractions and activities, making it easy to plan your visit. Additionally, you can purchase tickets online, selecting from a range of packages that include basic admission, admission with transportation, and admission with meals.
Xcaret provides a wide range of activities and attractions suitable for people of all ages and interests. Here are some popular activities: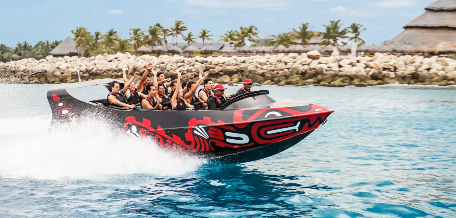 Get ready for an exhilarating ride on a high-speed boat! After taking a seat, carefully listen to your guide's instructions and hold on tight as the boat picks up speed, reaching up to 90 km/hr. Experience the thrill of 360° turns that will have you moving from one side to the other in a fun and safe manner. Afterward, your guide will pause the boat and immerse you in the waves, leaving you completely soaked from head to toe. This extreme activity in Playa del Carmen is sure to give you an adrenaline rush that you won't forget!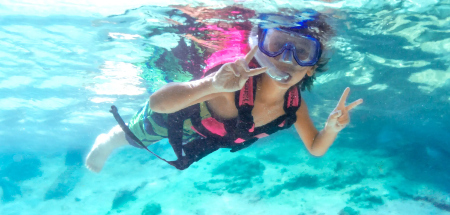 At Xcaret park, children can enhance their understanding of nature by experiencing it firsthand. Adventure Kids provides a secure and supervised setting for youngsters to feed and engage with small stingrays. Following this, they can don snorkeling equipment and join these creatures in a serene lagoon where they can also encounter other aquatic animals. Adventure Kids is merely one of the many child-friendly pursuits obtainable at Xcaret. Treat your little ones to this extraordinary adventure!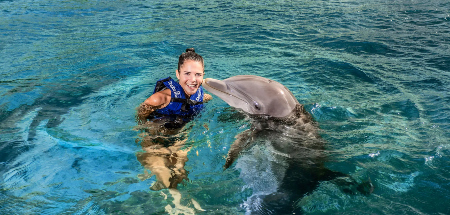 Experience an unforgettable encounter with dolphins at Xcaret, where you can engage in an educational activity that will teach you fascinating information about these magnificent creatures, including their diet, playful behavior, and impressive intelligence. Moreover, you will have the opportunity to swim freely with the dolphins and even receive a charming kiss from these friendly marine mammals.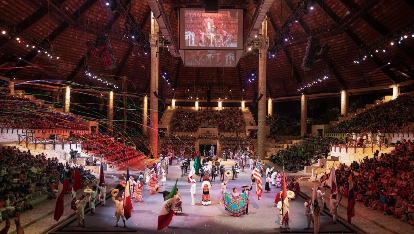 Apart from natural wonders, Xcaret also offers several cultural shows and performances that showcase the music, dance, and traditions of Mexico. The Grand Tlachco Theater is the site of nightly performances that showcase the vibrant costumes and rhythms of different Mexican regions, including the pre-Hispanic era. The Xcaret México Espectacular show is a must-see, featuring over 300 performers and a recreation of the ancient Mayan ballgame.
Discounts and Coupons
Xcaret offers a variety of discounts and coupons to help visitors save money on their park admission and activities. The discounts and promotions are subject to change and may apply to specific activities or packages, such as park admission with transportation or a meal plan.
Sale Page
You can check the promotions page on the xcaret.com website to see the current offers and choose the one that best suits your needs.
Recently there was a 10% off ferry promotion: Xcaret Xaling's ferry takes you to the magical island of Isla Mujeres. Take advantage of the 10% discount and visit one of the most beautiful islands in the Mexican Caribbean. Use code FERRYWEB and buy your tickets.
Sign-Up Promotions
If you're looking for more ways to save on your Xcaret experience, consider signing up for their newsletter or creating an account on their website. By doing so, you may receive exclusive offers and promotions that are not available to the general public. This means you can stay up-to-date with the latest deals and discounts and take advantage of them before anyone else.
Some promotions also require a coupon code to be used at checkout, so you should make sure you enter the code to get the discounted price. If you don't know how to find these discounts, you can browse our website, which is regularly updated with promotions and discounts. By taking advantage of these discounts, you can enjoy the unparalleled beauty and excitement of Xcaret without going over budget.
Overall, xcaret.com is a great resource for anyone planning a visit to Xcaret or the surrounding area. They provides a wealth of information about the park and its attractions. Whether you're interested in learning about Mayan history, exploring underground rivers, or simply relaxing in a beautiful natural setting, Xcaret is the perfect destination, and xcaret.com is the perfect place to plan your visit.