Macy's Shopping Secrets Revealed
2023-09-14
Welcome to a world of incredible deals, fashion finds, and home essentials—all under one iconic roof. We're diving deep into Macy's, your go-to destination for shopping. Whether you're a fashionista on the hunt for the latest trends or a budget-conscious shopper looking for everyday essentials, there is something for everyone.
Knowing Macy's: Where style meets tradition
Macy's is an iconic American department store, seamlessly blending contemporary fashion trends with a rich heritage dating back to its founding in 1858. With its flagship store in New York City's Herald Square, Macy's has become a household name synonymous with quality, style, and innovation. Offering an extensive range of clothing, accessories, home goods, beauty products, and more, Macy's caters to the diverse tastes and preferences of its customers.
Fashion and Celebrity Collaborations
Throughout its history, Macy's has been at the forefront of fashion. It introduced exclusive collections by renowned designers like Ralph Lauren, Tommy Hilfiger, and Calvin Klein, making high-end fashion accessible to a broader audience. Celebrity partnerships, including Martha Stewart and Jessica Simpson, further solidified Macy's position in the fashion world.
Community Engagement and Sustainability
Macy's has not only been a retail giant but also a responsible corporate citizen. It has supported various charitable causes and initiatives, including the Macy's Believe Campaign, which raises funds for the Make-A-Wish Foundation. Furthermore, it has taken steps toward sustainability by implementing eco-friendly practices and launching sustainable fashion lines.
In conclusion, Macy's is not just a store, it's a testament to the enduring spirit of innovation and adaptation. From its humble beginnings to its place as a modern retail powerhouse, its journey is a reflection of the ever-changing retail landscape and the enduring appeal of quality and tradition in the hearts of shoppers across America and beyond. Next, follow us to get ready to uncover a treasure trove of shopping tips and tricks to save more at Macy's.
Maximize your savings at Macy's
Sign Up for Macy's Rewards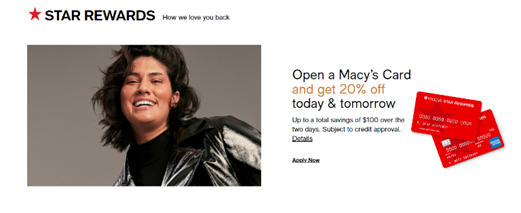 Macy's rewards programs, such as Macy's Star Rewards, are your passport to exclusive discounts, special offers, and points that translate into dollars off future purchases. This program is now offering Buying & Earning Point deal, buy more can get more money back! Don't miss out this free opportunity to supercharge your savings.
Sale Spectaculars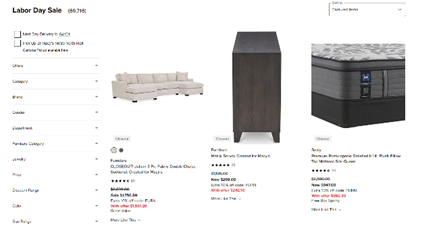 Macy's frequently hosts sale events throughout the year, especially during major holidays. Like Black Friday, one of the biggest shopping events of the year; Cyber Monday, Fourth of July, Labor Day, Memorial Day Christmas and Holiday Season, New Year's Sales and so on. These sales often feature significant discounts across various departments, from clothing to home goods. For now, they are on Labor Day Sale: Up to 75% Off Area Rugs, offer wraps up on September 18th.
Clearance Treasures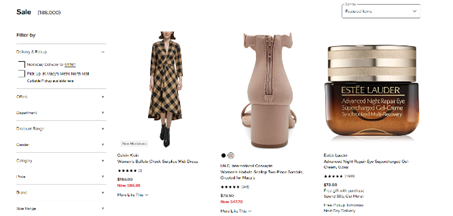 In the Macy's sale section, you can find a wide range of discounted products across various categories, including clothing, shoes, accessories, home goods, beauty products, and more. And sometimes up to 70% off, making it a goldmine for you.
Macy's Credit Card Perks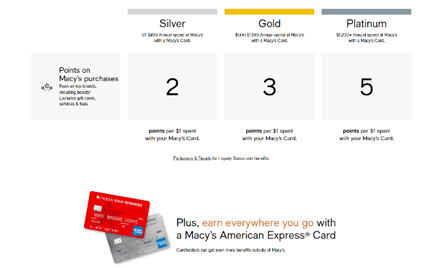 Macy's offers a store credit card known as the "Macy's Credit Card" as well as a "Macy's American Express Card." Consider applying for a Macy's credit card. Cardholders enjoy exclusive benefits, including extra ongoing discounts: 20% off any purchases, access to presale events, and even birthday surprises. It's a smart way to elevate your savings game.
Macy's App Advantage


Download the Macy's app to access exclusive app-only deals, like getting some free gifts, scan barcodes for product information, and receive personalized offers tailored to your shopping preferences.
Be a Beauty Insider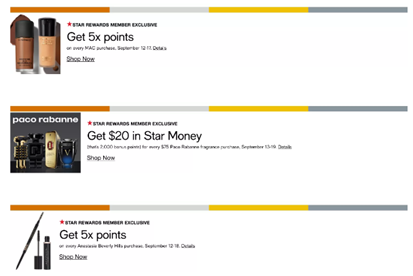 If you're into beauty products, you can pay more attention to Macy's beauty sales and events, offering free gifts with purchase and discounts on your favorite cosmetics and skincare brands. The free gifts can vary in size and content but often include sample-sized or deluxe-sized beauty products, cosmetics, skincare items, or makeup bags. Now you can grab the chance to get up to 40% off beauty items + free samples, this is a limited time deal, only valid to the end of September!
Free Shipping & Smart Returns
Familiarize yourself with Macy's return policy to ensure hassle-free returns or exchanges if needed. Just need to keep your receipts and original packaging. And you can also save a lot through Macy's free shipping: Free Shipping on orders over $49.
Stay Informed


Subscribe to Macy's newsletters, follow them on social media, and bookmark their website to stay up-to-date with the latest trends, promotions, and exclusive offers, such as: Sign Up & Get 25% off Your First Order.
Utilize Coupon Websites & Apps
Many websites and apps offer coupons, discounts, and deals that you can use to save money on various products and services, such as RetailMeNot, CouponCabin, Groupon, CouponFollow, CouponFeature and so on. There are numerous mobile apps available that aggregate coupons and deals as well. Examples include Ibotta, Rakuten, and Coupons.com. Download the app of your choice, browse the available offers, and follow the app's instructions to redeem the discounts. You can make full use of these platforms to better help you shop without bank breaking.
Commonly and well-received brand & items at Macy's
Macy's provides a wide range of popular and well-received brands and items across various categories. However, popularity can change over time due to evolving fashion trends and consumer preferences. Here are some brands and items that were commonly sought after and well-received at Macy's.
Fashion Brands
Macy's is known for its extensive clothing collections, including men's, women's, and children's clothing. This category encompasses everything from formalwear and activewear to casual attire. Popular brands like Calvin Klein, Ralph Lauren, Michael Kors, Levi's, Tommy Hilfiger, I.N.C. …
Trending for recommendation:
I.N.C. Women's Long-Sleeve Top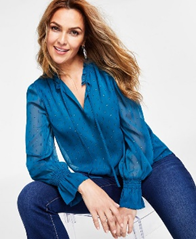 Original Price: $59.5
Sale Price: $41.65(30% off), Until 9/30/2023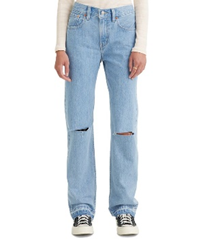 Original Price: $79.5
Sale Price: $47.7(20% off), Until 9/30/2023
Beauty and Cosmetics
Macy's has a dedicated beauty department that features skincare products, makeup, fragrances, and grooming items from popular brands, including MAC Cosmetics, Estée Lauder, Clinique, Lancôme…
Trending for recommendation:
ESTÉE LAUDER Advanced Night Repair Serum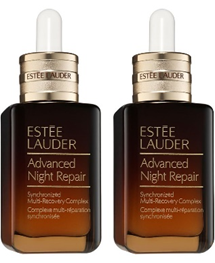 Original Price: $250
Sale Price: $208(20% off)
Also: Get FREE Estée Lauder 7-Pc Gift, $160 Value, Until 9/28/2023

MAKE UP FOR EVER Face & Eyeshadow Pro Palette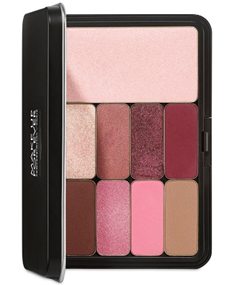 Original Price: $95
Sale Price: $39(60% off)
Also: Get a Free Sample, Until 9/18/2023
Home and Kitchen
Macy's has an array of home decor items like rugs, curtains, wall art, lighting, and decorative accents to help you personalize your living space. You can also find kitchen appliances, gadgets, cookware, bakeware, dinnerware, and small kitchen appliances, popular brands include Martha Stewart Collection, Hotel Collection, All-Clad, La-Z-Boy, Ashley Furniture and so on.
Trending for recommendation: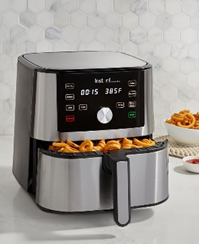 Original Price: $139.95
Sale Price: $99.95(30% off), Until 9/18/2023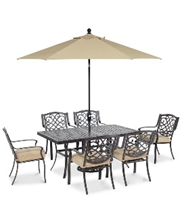 Original Price: $1799
Sale Price: $999(45% off), Until 9/30/2023
Electronics and Appliances
Some Macy's locations feature an electronics section that may include items like headphones, small electronics, and tech accessories, such as Samsung, KitchenAid, Keurig, JBL…
Trending for recommendation: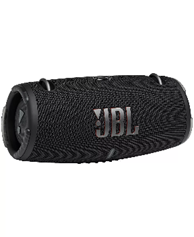 Original Price: $379.95
Sale Price: $279.95(30% off), Until 9/18/2023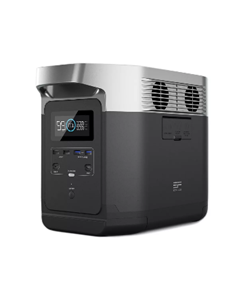 Original Price: $1099
Sale Price: $769.3(30% off), Until 9/18/2023
Jewelry and Watches
Macy's offers a wide range of jewelry, including rings, necklaces, bracelets, and earrings, as well as a variety of watches for men and women. Cooperated brands like Citizen, Bulova, Effy Collection…
Trending for recommendation: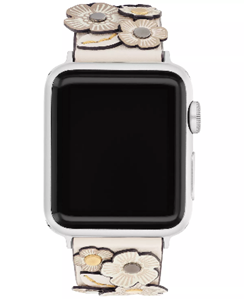 Original Price: $175
Sale Price: $131.25(25% off), Until 9/30/2023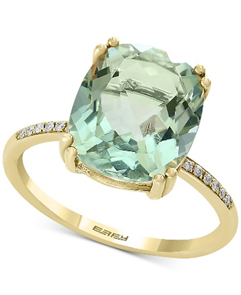 Original Price: $1450
Sale Price: $1299 (15% off), Until 9/30/2023
Today, Macy's remains a prominent fixture in American retail. With its diverse product offerings, commitment to customer satisfaction, and a growing presence in e-commerce, it continues to adapt and evolve. Macy's commitment to providing quality products at affordable prices, along with its rich history and traditions, ensures that it will continue to be a retail icon for generations to come.
Shopping on macys.com offers convenience and access to a wide range of products. By following our guide, you can navigate the website effectively and enjoy a seamless online shopping experience here.