How to Be A Good Pet Owner:Tips You Should Know About Pet Care
2022-08-11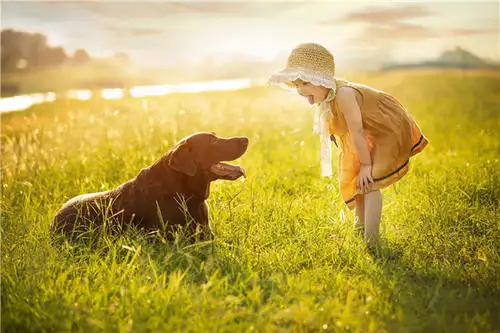 Pets, human's most loyal friends, will stay with you and enrich your lives. In 1993,Harvard University Health Survey Report showed that people with pets typically have lower blood pressure, more stable heart rates and more peaceful mind. All these studies tell us that keeping pets can change moods, reduce illness and pain. Nowadays more and more people keep pets. If you also want to keep one, you need to get some knowledge about pet care and know how to pick the right pet supplies. Below are some tips for you.
Some Feeding Tips
Before keeping pets , it is very important to make sure that you have enough time, enough space, and enough money. What's more, you must love this breed of animals with full of patience. Remember not to make a rush decision, and take your time to learn as much as you can before keeping pets. As you may know, Pets are not only our companions in our life, but also need our company and care because of being afraid of loneliness and solitude. Therefore, you get some responsibilities when keeping pets. It is not an impulse, let alone a desire to be fresh and fashionable.
If you are a first-time pet keeper, you can talk to your friends who are pets owner for some advice or go to a pet store for consultation to make the right choice. Then, Choose what you like and you can afford based on your ability and specific situation. For example, if you want a pet with better interactivity, you can choose to keep a cat, a dog or a rabbit because they are very smart and have good learning ability.
In the process of keeping a pet, you need to understand its habits and feeding points because each pet has its own unique lifestyle. In the case of a cat, you should know exactly the amount of food it eats, the food it needs to feed, the common diseases, the nutrition it needs and the food it should not be fed. Try your best to know your pets. It'll be useful for you to get along with them better and give them the best care. Additionally, please remember that underfeeding will make your pets hungry and overfeeding make them obesity. The regular feeding is necessary and will develop their good eating habits and maintain the gastrointestinal system well.
Vaccinating your pets is a vital component of responsible pet care. In order to make your pets be away from sickness and those germs or parasites, remember to deworm your pets and bring them to take vaccinations. Also, pay attention to clean your pet's utensils, bath your pet regularly and wash your hands regularly.
How to choose cat and dog food?
Check The Information on the Product's Packet. You should pay attention to ingredient list:
The top five of the ingredient list should be different kinds of meat.
Refuse animal offcuts such as offal and other trimmings.
Do not choose food contain grains or contain vegetable protein.
Do not choose non-essential additives such as food attractants, preservatives.
Pick Reliable Brands. The brand is an important factor when you making the online purchase. The quality of products produced by large factories is more secure. If there are well-known research institutions involved in research and development or technical support, the production of product quality is more secure.
You can observe whether the pet loves to eat this food and whether there will be allergies.
Read Refund Policy. The refund policy and shipping terms tell a lot about an online store. Reliable online stores have refund policies that favor their customers. If you aren't satisfied with the quality of a product, the store should give you an opportunity to return it and get a refund or a replacement.
For different breeds and ages of pets, you need to choose different foods. Here, I have listed some suitable food for different breeds and different age groups of pets.
Cat food
Four Star Surf & Turf Formula Dry Cat Food
Sale Price: $25.45
Original Price $30.99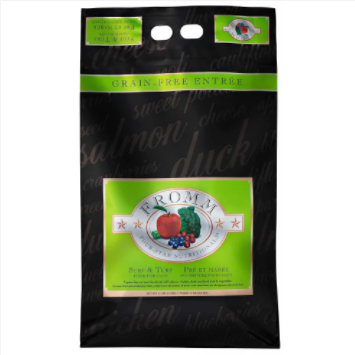 Fromm Four-Star Surf & Turf Recipe is an exquisite, grain-free blend of salmon, chicken, and whitefish. This recipe is specially prepared to ensure consistency, quality, and superior taste in each and every bowl. Surf & Turf Recipe cat food provides complete and balanced nutrition for cats of all ages and can be alternated with other Fromm Four-Star recipes.
Sale Price: $19.99
Original Price $21.99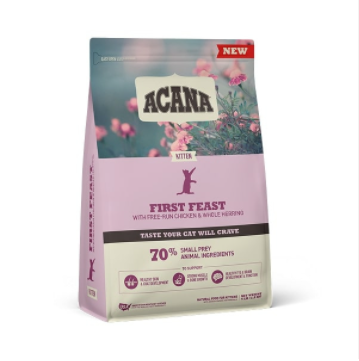 Your kitten is an obligate carnivore, genetically designed for a diet that is rich in protein from whole animal ingredients. Crafted to provide everything your kitten needs for peak growth and development, ACANA First Feast is brimming with 70% free-run chicken and whole herring in WholePrey ratios of meat, organs, and cartilage or bone, providing your kitten with everything they need.
ONLY NATURAL PET POWERFOOD GAME & POULTRY MEAL DINNER CAT FOOD -
Sale Price: $24.99

Original Price $32.99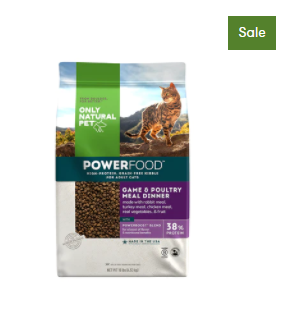 Only Natural Pet PowerFood Game & Poultry Meal Dinner Cat Food is a dry cat food made with rabbit meal, turkey meal, chicken meal, real vegetables, and fruit. These ingredients combine for a nutritious meal that features 38% protein.
Dog food
Four Star Grain Free Lamb & Lentil Dry Dog Food
Sale Price: $96.06
Original Price $114.99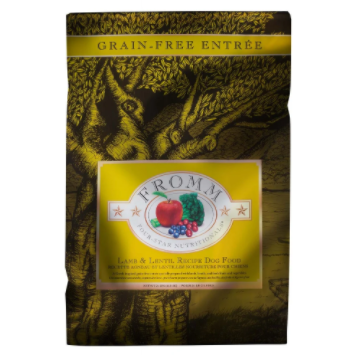 Fromm Four-Star Lamb & Lentil Recipe for Dogs is a delectable grain-free blend of lamb and lentils combined with fresh fruits and vegetables. This artisan blend is prepared in small batches, ensuring consistency, quality, and superior taste in each and every bowl. Lamb & Lentil Recipe provides complete and balanced nutrition for dogs of all ages and can be fed in rotation with other Fromm Four-Star varieties.
Small & Medium Breed Puppy Chicken & Rice Dry Dog Food
Sale Price: $61.70
Original Price $74.99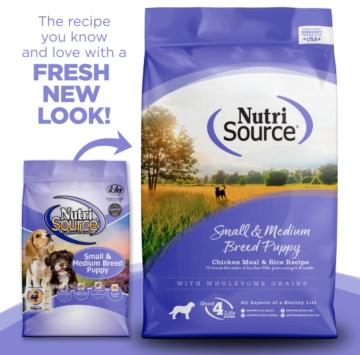 Made for puppies expected to weigh less than 50 pounds full grown, NutriSource Small and Medium Breed Puppy Chicken and Rice Dry Dog Food is a holistic and easy to digest recipe created with higher levels of protein and fat that growing puppies need! Humane certified chicken and other high quality ingredients are key in this recipe to ensure your puppy is getting the best nutrition available for optimal growth and development.
Grain Free Turkey & Pumpkin Pate Canned Dog Food
Sale Price: $33.99
Original Price $39.99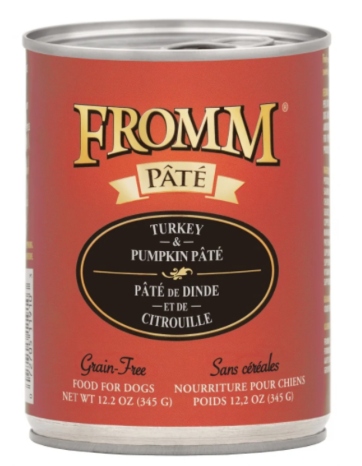 Perfect as a complete meal or accompanying your dog's favorite dry food, Fromm Grain Free Turkey & Pumpkin Pate Canned Dog Food provides balanced and complete nutrition for all breeds and all stages of life. Fromm Grain Free Turkey & Pumpkin Pate Canned Dog Food is grain free and made with no artificial colors, flavors, or preservatives.
Breed Health Nutrition Pug Puppy Dry Dog Food
Sale Price: $24.99

Original Price $25.99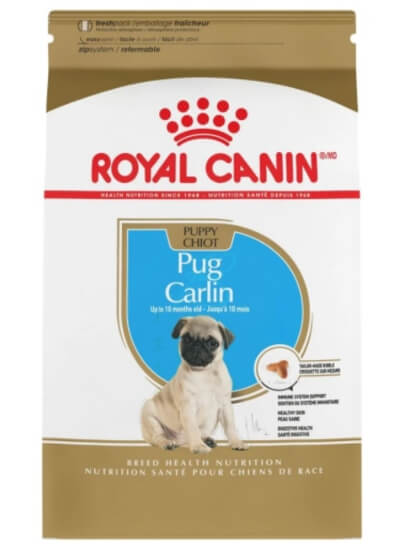 Royal Canin knows what makes your Pug puppy magnificent is in the details. With their flat muzzles, wrinkled faces, and curly-Q tails, Pugs are happy little dogs that can play or sleep all day. They can benefit from the right growth formula for immune system support, skin and coat health, and digestive care during the puppy stage.
How to choose pet accessories?
For cat, you need buy cat litter, cat litter box, food bowl, water bowl, snacks, comb. For dog, you need buy food bowl, water bowl, teething bars, dog traction rope and so on. If you don't know how to choose pet supplies, you can visit these online pet stores to shop what you need . They are Chewy,Petflow,Trusted Housesitters, Pet Care Supplies, Only Natural Pet.
Cat
Sale Price: $16.25
Original Price $20.00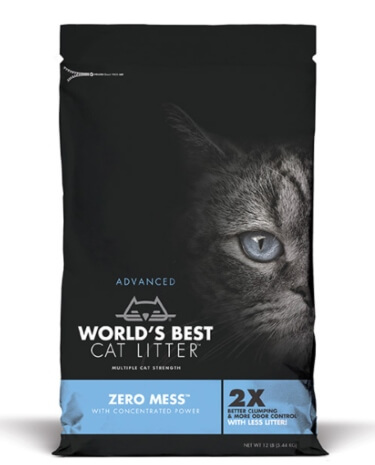 Make cleanup faster and easier than ever with the multiple-cat-strength litter that delivers 2X better clumping and more odor control, so you get less mess with less wasted litter.
Sale Price: $17.99
Origin0al Price $21.99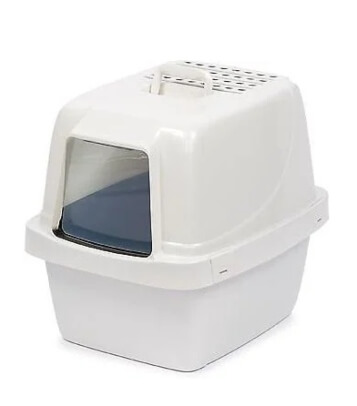 Ideal for cat owners who want class leading odor control provided by a Van Ness enclosed litter pan and providing the added benefits of an odor door & replaceable Zeolite air filter.
Bella Bowl Fish Skeleton - Blue
Price: $4.29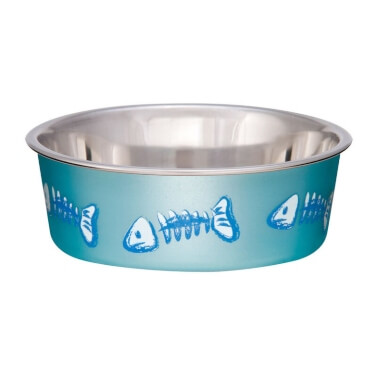 White fish skeletons with shadow on a beautiful background. Vet-recommended bacteria resistant stainless steel interior. Removable rubber base prevents skids, spill and noise. Dishwasher safe (remove rubber ring).
Dog
Price: $64.99(Save 30% on your first AutoShip order)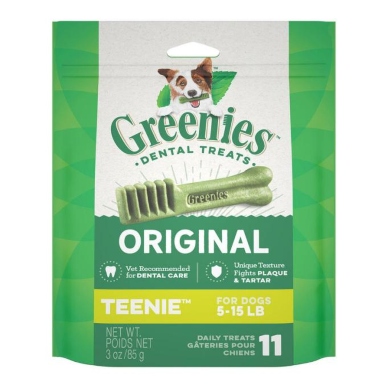 One GREENIES Original Dental Treat a day is all it takes for clean teeth, fresh breath and a happy dog. Your dog can't wait to sink their teeth into these delicious, original-flavor dental dog chews because they feature a delightfully chewy texture that fights plaque and tartar.
Quiet Time Natural Fleece Pet Bed
Sale Price: $5.99
Origin0al Price $7.99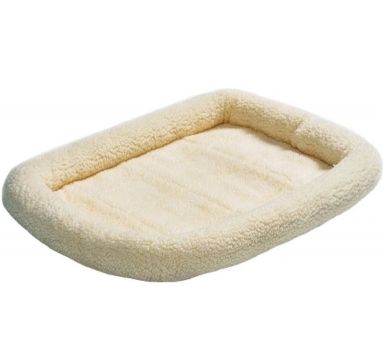 Designed to Fit Your Midwest Dog Crates. Treat your dog to this comfortable pet bed! Ideal for Use in Crates, Carriers, Dog Houses, Vehicles . . .
Polyester Fabric Webbing and Soft Genuine Leather Dog Collar in Navy and Olive
Sale Price: $28.99
Origin0al Price $34.99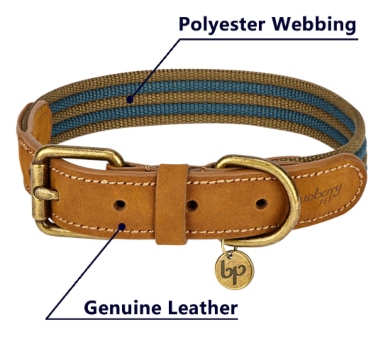 Blueberry Pet Polyester Fabric Webbing and Soft Genuine Leather Dog Collar in Navy and Olive.
All in all, having a pet is not a simple thing. Once you decide to have a pet, you must be responsible and patient to take care of them. Love your pets and provide them the most suitable food & supplies! When you do not know how to make the choice, you can visit our Couponfeature.com and get more useful pet care info & some saving tips.
Some Q&As
Which brands are offering pet supplies?
Many pet brands. For example, Chewy, Petflow, Canada Pet Care, Only Natural Pet, Budget Pet Care and more.
Can I get some discounts at these pet stores?
Yes, of course.
Many pet stores offer discounts. Below are some examples
Petco offers 10% off when your online order over $50
BudgetPetCare have a summer special offer 10% off all orders with code SUMMER10
PetSupermarket offer 25% off selected items and 30% off your first autoship orders.
Chewy offers 35% off your first order and 20% off your pharmacy order.
Only Natural Pet --BUY 1, GET 1 - 50% OFF ALL SUPPLEMENTS with Code SUPP50.
If you want to know more about discount, visit our Couponfeature.com.